Imagery
Search from a comprehensive list of imagery this year.
Search imagery from 30 meter to 25 centimeter resolution.
We have archived tens of thousands of images with thousands more added every month, during the growing season.
Analyze
Build accurate and up-to-date zone-maps using imagery.
Mapcenter has a number of analysis options to choose from, including custom classifying options and exporting capabilities.
Datasets
Everything analyzed is stored, for free, in the cloud.
Zone-maps, scouting reports and photos of your field are freely stored and accesssible anytime with a Satshot account.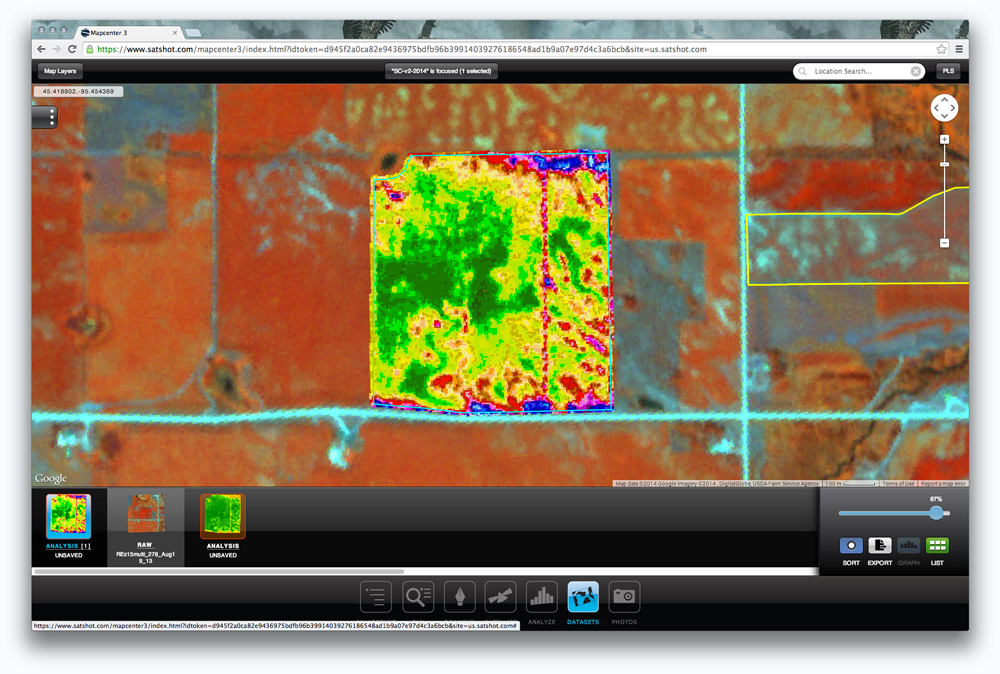 My Account
Create a fully customizable account hierarchy, suited for clients of all size.
Single and Multi User accounts have access to the powerful tools Satshot offers. Organize users by custom groups and regions depending on the needs of your organization. No more client, farm, field hierarchy, create whatever you need and how your organization works.
Boundary Management
Add hand-drawn fields or batch import entire farms.
Use Satshot's tools to draw, edit, and import field boundaries or select our nationwide database of CLUs (common land units) boundaries from the USDA to add these pre-drawn borders.